Faculty & Staff
Maine Teachers & Faculty Serve Students, Families & Community
MeANS teachers and staff are some of the most committed, caring and engaged Maine teachers around. They work with very small class sizes, giving attention to individual students on campus and during home visits. One of the only high schools in Maine enabled to give this kind of care to each pupil, our faculty is available to students on many different levels in many different ways. We think they're the best teachers around and our students, their families and our local community will tell you the same.
Many MeANS students have experienced some kind of rupture in their relationship with adults and so school may not seem like a safe place for them to be—and to learn. We start the student approval process with an interview that covers both their academic and personal life (as much as they want to share). Students know we're interested, they know we care about their struggles, and benefit from an individualized learning program built on trust between teacher and student.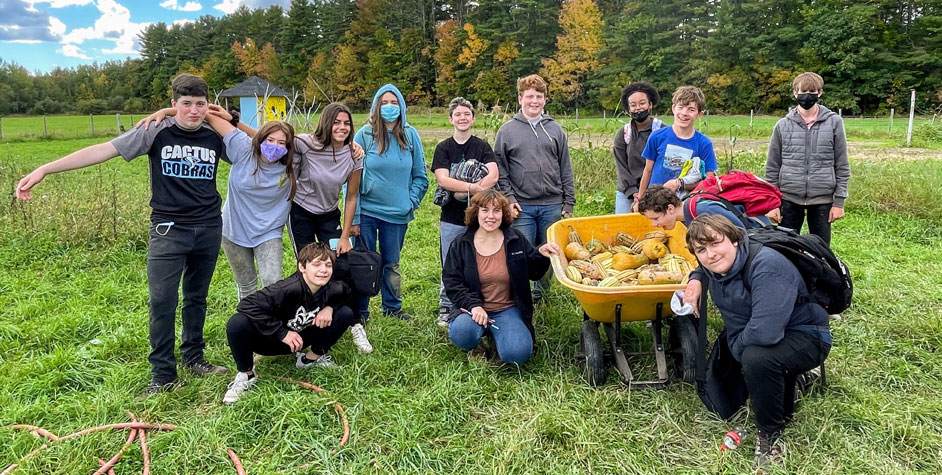 Nothing about this is easy. It takes hard work and lots of it, but our faculty and staff are enthusiastic about their interactions and connections with students. We are on a mission to work with underserved kids, are always ready to innovate a custom pathway to learning, and serve as notice that these kids can learn, can succeed, and that the same model will work across the nation.
| | | | |
| --- | --- | --- | --- |
| MeANS Staff | Email | Class Phone Rm | Position |
| Carrier, Kasey | kcarrier@maineacademy.org | 238-4123 M203 | 9/10 Math Teacher |
| Chase, Jeff | jchase@maineacademy.org | 238-4124 M001 | Agricultural Specialist |
| Poindexter, Jim | Jpoindexter@maineacademy.org | 238-4119 M202 | 9/10 ELA Teacher |
| Russel, Vincent | vrussell@maineacademy.org | 238-4115 M104 | 9/10 SS Teacher |
| Hewett, Katie | khewett@maineacademy.org | 238-4103 A204 | 9/10 SE Teacher |
| Littlefield, Mary | mlittlefield@maineacademy.org | 238-4104 M001 | 11/12 SE Teacher |
| Hersey, Sonja | shersey@maineacademy.org | 238-4108 A203 | 11/12 SE ET III |
| Fortin, Kelsi | kfortin@maineacademy.org | 238-4121 M103 | 11/12 SS Teacher |
| Smith, Rand | rsmith@maineacademy.org | 238-4113 M102 | 11/12 SC Teacher |
| Parrinello, Frank | fparrinello@maineacademy.org | 238-4117 M204 | 11/12 ELA Teacher |
| Hilmer, Grace | ghilmer@maineacademy.org | 238-4114 | School Social Worker |
| Ryan, Joyce | jryan@maineacademy.org | 238-4110 | Office Manager |
| Taylor, Paula | ptaylor@maineacademy.org | 238-4105 M201 | Transportation Coord |
| Getchell, Sean | sgetchell@maineacademy.org | 314-5086 M000 | Custodian |
| Christopher, Beth | echristopher@maineacademy.org | 238-4112 A104 | Business Manager |
| Coleman, Evan | ecoleman@maineacademy.org | 238-4122 | Director of Curriculum and Instruction |
| Sullivan, Christine | csullivan@maineacademy.org | 238-4106 A104 | Director of Special Education |
| Best, Danni | dbest@maineacademy.org | 238-4101 A104 | Dean of Students |
| Dennison, Becky | rdennison@maineacademy.org | 238-4131 M004 | Dean of Threshold |
| Newberg, Matthew | mnewberg@maineacademy.org | 238-4102 A104 | Head of School |
| Guptill, Katrina | kguptill@gwh.org | 238-4005 Prescott | Food Service – Cafeteria |
| Schaedle, Luke | lschaedle@gwh.org | 238-4011 Visitor Ctr. | Technology/Server |