Board of Directors
Board Meeting Agendas and Minutes
---
Dianna Gram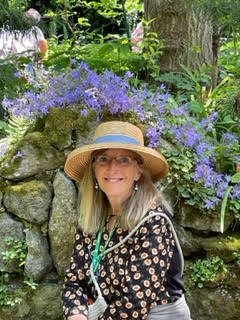 Dianna has spent her life working on behalf of students. She is a first generation college graduate and proud to say that University of Maine at Farmington gave her the confidence to make education her career. She graduated from UMF in 1978 and held positions as a special education teacher in the Madison and North Anson schools, very quickly moving to the role of Special Education Director for both districts. In that role she found her voice by advocating on behalf of students with disabilities, working with teachers to develop inclusive practices, providing staff development and advocating for overall change in how systems think about and value what each individual student has to offer.
Dianna eventually moved to Vassalboro Community School(VCS) with grades K-8. She initially served as an Assistant Principal/Special Education Director and finished her career as the Principal of that school. She is proud of the teams in that building who worked tirelessly to create an inclusive and positive school culture. In addition, she wrote & secured a federal development grant designed to implement a research based pre-k program in partnership with the local Community Action Program to complete the continuum of services at VCS.
She retired from education in 2018 after 35+ years. Dianna also served several years as adjunct faculty at UMF where she worked with her mentor Ray Glass to develop and instruct coursework for aspiring educators to become certified as special education teachers. She also served as the President of MADSEC; a statewide organization for Special Education Directors and has presented at numerous conferences both in state and nationally.
Dianna is a firm believer that educating everyone takes everyone.
In her retired life she has been enjoying yearly cross country trips, hiking, biking and spending time on Great Pond with her partner Steve. She looks forward to her role on the MeANS board and learning more about the work being done on behalf of students.
Dana Doran
Mr. Doran is a native Mainer and has significant ties to the forest products industry of Maine. Since returning to Maine in 1999, he has cultivated his passion for timber both professionally and personally. He is a member of the Small Woodland Owners Association of Maine. He has owned two woodlots that have been recognized by the American Tree Farm System. He has also had a unique opportunity to serve in several positions with a diverse set of organizations, both public and private, in Washington, DC and here in Central Maine where logging was a topic of his work on various occasions. From 1998-1999, Mr. Doran worked as a political appointee for then President William Clinton in the United States Department of Labor. From 1999-2001, he served Governor Angus King as Assistant Commissioner of Public Affairs For the Maine Department of Labor. In 2001, Mr. Doran joined Central Maine Power Company as their Director of Business Development, acting in this capacity until 2003. From 2003-2007, Mr. Doran taught Social Studies and coached varsity basketball at Gardiner Area High School. His most recent position was as Director of Energy and Paper Programs at Kennebec Valley Community College in Fairfield, Maine. Mr. Doran held this position since 2010 and also served as Director of Resource Development for the college from 2007-2010. Mr. Doran is a 1996 graduate of Lafayette College in Easton, Pennsylvania, where he earned a Bachelor's Degree in History/Government and Law. He was awarded an M..P.A. with a focus on Public Administration from the University of Connecticut in 1998. He and his family currently reside in Belgrade, Maine.
Sally Beaulieu – Vice Chair
Mrs. Beaulieu had a 23 year teaching career before leaving the classroom in 2014 to work for GEAR Up Maine. The last ten years of her teaching career were, in her mind, the most rewarding. She designed and delivered, with her teaching partner, a program for students who have skills and talents not traditionally valued in school. A couple of her former students eventually became students at MeANS. In 2014, Mrs. Beaulieu went to work for GEAR UP Maine as the Regional Facilitator for MeaNS. She was eventually asked to coordinate GEAR UP Maine's three pilot studies designed to raise students' aspirations; assist them in career and postsecondary exploration and planning; and facilitate enrollment in a postsecondary institution and perseverance through the first year. In addition to GEAR UP Maine schools, Mrs. Beaulieu has been able to share the preliminary findings of these studies with other college access professionals nationwide. Mrs. Beaulieu respects and appreciates the mission of MeANS and wants to be a proud part of the school.
Kim Patnode, LCSW – Secretary
Kim has been a Clinical Social Worker for over 25 years. She has a private therapy practice in Augusta. She has extensive experience with adolescent residential services, outpatient adolescent therapy, domestic violence advocacy, trauma and substance abuse treatment. She has taught classes in Psychology and Social Services at UMA. She received her Bachelor's Degree from Keene State College and her Master's Degree from The University of New England. She and her husband farm in South China.
Mike Muir – Chair
Mike Muir, a 35+ year educator, has dedicating his work to helping schools create better learning experiences for all students, especially for disenfranchised, low SES, and rural learners. He has worked with educators across the country to implement effective programs to motivate underachievers, leveraging technology as a tool for learning, and leadership for school change. He was part of the teams that designed and implemented the first statewide 1to1 learning through laptop program, Philadelphia's Magnet School Grant, and the first districtwide 1to1 iPads in primary grades program. Mike has served on AMLE's Research Advisory Board, on the AMLE Board of Trustees, and is Past President of AMLE. He has held similar positions in Maine's middle grades organization. Mike is currently Tech Director for a small, innovative district in the Western Maine Mountains. Dr. Muir is the author of Moving the Needle: Proven Strategies for Implementing School Change.
Whitney King
Whitney King is the Miselis Professor of Chemistry at Colby College where he has been teaching analytical and environmental chemistry for 33 years. His research group develops instruments to study the chemistry of the oceans and lakes. King and his research students are also active in researching the biogeochemistry of the Belgrade lakes to help preserve the water quality of this valuable Maine resource.
Anna Perkins
Anna has worked in the field of special education in Maine since 1980 in both public and private special purpose school settings as a teacher, consultant and special education administrator, including 14 years as the Special Education Director for GWH/MeANS. Prior to her work in Maine, Anna held positions in Massachusetts as a teacher and adjunct faculty in the fields of early childhood and school age special education. Anna holds a Bachelor's Degree from Northeastern University and a Master's Degree from Lesley College. Over the years, she has been active in the special education community at the local, regional and state levels. Anna has always enjoyed working with families, students and staff and welcomes the opportunity to support the Maine Academy of Natural Sciences through Board membership.
Martha Harris
Martha J. Harris is the owner of the law firm of Paine, Lynch & Harris, P.A. in Bangor, Maine. She has been practicing in the areas of family law, general civil litigation and criminal defense for 44 years.
She has a BS in Mathematics (Physics Minor) from Tufts University, an MSW from Rutgers and Juris Doctor from Northeastern University.
She is a member of the bar of the State of Maine, Commonwealth of Massachusetts, Federal District Court of Maine and First Circuit Court, Maine State Bar Association, Penobscot County Bar Association, Maine Association of Criminal Defense Lawyers, and the American Bar Association. She has a long standing history of service in the education field, including Main State Board of Education – 2010 to 2021; NASBE (2010 – Present); RSU 22 School Board 1995-2016 She has sat on many committees and commissions in her professional and personal life. She has two adult sons and resides in Winterport with her husband.
Robert E. Dodge
Bob Dodge is a native of South Portland, Maine. He attended local schools and graduated from South Portland High School. He graduated from Boston University with a baccalaureate degree in Business Studies and went on to receive a Master of Business Administration degree from Babson College, where he subsequently instructed in the graduate program. He has over 35 years of business management experience in various for-profit enterprises, not-for-profit organizations, and educational institutions. He has held positions of leadership in technology, financial management, and business administration.
He has worked as an employee in many types of businesses and has been a consultant to small-to-medium-sized businesses throughout Southern Maine for years. He has also founded three business ventures. He is currently retired from active employment but performs periodic business consulting services to local businesses.
In addition to his many business involvements, Bob has served on the Boards of Directors for several non-profit organizations since 1991. He has served as Treasurer and First Vice President of the World Affairs Council of Maine, where he was the 2003 recipient of the Bea Chapman Minot Award. He was Treasurer, Vice President, and President (three years in each position) of the Board of VNA Home Health & Hospice of South Portland, ME. He also was a Trustee of Mercy Health System of Maine for three years. He served on the Board of Evergreen Credit Union in Portland (2014-2020), in addition to his membership on the Good Will – Hinckley Board of Directors.
He lives with his wife in Topsham, ME and has three daughters and three granddaughters.